I do have something good to say about this movie.
It induced the most painful laugh I have ever laughed in a movie before...
Wanna hear about it?
I know you do.
So there I was watching new moon...
(which incidentally, the movie people label as "twilight" on the tickets. How confusing is that?)
I took a sip of my water and just at that moment...
Something really stupid involving robert uglyson happened and I can't even remember what it was...
And I ALMOST laughed but contained myself so I wouldn't spit on the fellow in front of me.
However, halfway swallowing my water, the retard next to me(YAU YAU YAU), decided to laugh like a retard and then, you know the saying, laughter is infectious!
I LAUGHED LIKE A SHIT HEAD AND THEN I CHOKED ON MY WATER.
And then I coughed extremely loudly and painfully for about 5 minutes disturbing everyone from what may have been a sentimental part of the movie...
...Had this movie been somewhat good.
Now I'm going to tell you who & what made this movie entertaining or boring or just plain retarded.
Taylor Lautner aka Jacob Black.
You know what? He just is Jacob la...
Only time he made me laugh accidentally was when his hair was like a hobo...
Other than that, quite normal.
Of course Yau and a bazillion other girls will just gush about his packs but I think that some actors deserve way much more hype than taylor and hairybert.
Why do I call him hairybert?
Ohmygoodinesitssougly....
Not only is his hairy stomach broadcasted worldwide...
He also has melted nipples...
This is besides his ugly face of course.
But actually, I think his acting improved from the last movie...
I laughed at him a lot less than in twilight and he's less annoying here...
But then maybe that's just 'cause he's not in the show 80% of the time.
Except as a ghost.
Which is so flattering on him since at least now his ugliness is transparent...
Anyway, as I was saying about there being way hotter guys than taylor and hairybert...
LOOK AT THE GUY WHO PLAYS PAUL.
(Alex Meraz)
Taylor Lautner is just a compact cluster of muscles everywhere.
He looks like a male barbie doll.
I would say Ken but even Ken not so muscular wei!
Anyway, this guy looks normal and hotter!!!!
Nicer picture for yau's enjoyment...
He's just the hottest wolf but others are hot too...
EXCEPT FOR SAM ULEY!
Compare him(most right) with all the other guys next to him...
SO FAT & WEIRD LOOKING.
this picture is not such a good example of his true colours though...
Now let's move on to the members of the Volturi.
ABSOLUTELY LOVE THE TWINS.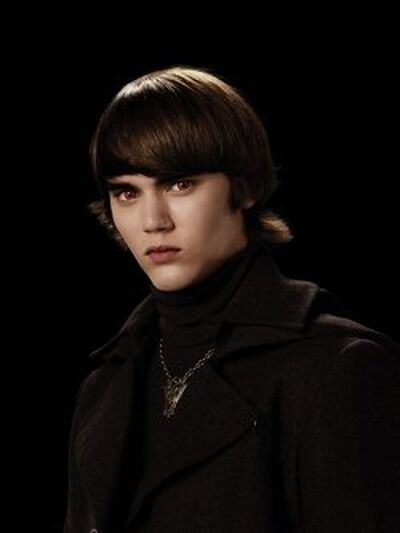 Alec (Cameron Bright
)
Jane (Dakota Fanning)
They are just the best actors there and the hottest vampires too.
When I saw Alec I was like "Whoah, who is that?"
Then Yau was like, "I think it's Demetri right?"
Then I checked and Demetri is the less hot vampire who is not worthy to be talked about here.
Then there's Marcus who according to Abigail looks like Snape.
(Christopher Heyerdahl)
Actually, he looks like this one guy who acted in lord of the rings as the king who was influenced by this evil man who's daughter fell in love with aragorn...
I can't remember all their dumb names but he looks like that guy!
He is also quite funny to watch if you're a psychotic person...
and then most awesome of all in his acting is the guy who plays Aro(Michael Sheen)!
From left: aro, caius and ALEC!!!!
He has the most hilarious acting ever!
HE LOOKS LIKE A PSYCHOPATH ALL THE TIME AND I LOVE IT.
See even when he's not acting he's cool!
EVEN HIS LAUGH IS SO AWESOME AND PSYCHOTIC!!!!
Caius is quite hot also and then I looked him up and realized he is the same sweet guy from Sweeney Todd that sings the Johanna song...
SO DIFFERENT WTS....
But cool. :)
Caius alone...
and then there's Jasper who actually has a personality besides a constipated face in this movie...
Only thing, I wish he'd sue the stylist who forced that hideous hair on him...
Look at his potential to be hot!
Awesome...
And then of course there is Alice!!!
sometimes when i see the girls, I wonder, why are there so many hot girls in this world and not enough hot guys???!!!!
I only say that because, somehow, uglyson was cast as Edward...
and then now for the hottest Cullen of them all...
Dr. Carlisle Cullen!
I never thought about him being hot in the book because he was supposed to be like the father but here he looks so young and hot!!!
No other word...
bigger picture:
And now we come to the funniest character in the entire movie!
BELLA!!!!!!!!!!!!!
I think probably one of her funniest parts was when she said "Kiss me" to edward with her stupid retarded face...
Hey I think that may have been when I choked!!!
Anywho, there are other many funny things that she does, falling being one of the least funny though because she sucks so much at acting dumb.
Another funny thing you have to watch out for is how she says edward after he ditches her in the forest...
I can't demo so you'll have to watch it yourself...
Over all I can actually say I was very entertained.
So my advice for all on the brink of deciding whether or not to watch this show?
Pick your type of personality:
A) I am a diehard twilighter:


Why haven't you watched it yet, you retard! Diehard twilighter, my foot!
B) I'm a normal person looking for a movie to fill my time with:


Don't watch it unless you plan on sleeping in the movie.
C) I am an emo person who just broke up with her boyfriend:


Watch the first part and then you can see how normal and alive you are compared to the psychotic Kristen Stewart who is just this constantly bored person...
D) You are a psychotic retard like myself and miss a good laugh:


WATCH IT WITH YOUR OTHER PSYCHO FRIENDS AND YOU'LL HAVE A BALL.
Now go do what I told you to!