Twilight Tag!
but first...
oodles of sorry to yau for not uploading the pictures...
im lazy, blur and... INdigo?
haha. feel better?

:p
OK and now for TAG
1. Do you like Edward Cullen?

omg what type of question is this??????
OF COURSE

2. Do you find Edward Cullen hot?
who am I to deny what vampires were meant to be?


in my imagination he is DAMN HOT


in the movie though...

he is so ugly my eyes burn!!!


this picture is from yau :




AHHHHHH AHHHHHHH

AAAAAAAAAAAAAAAAAAAAAAAAAAAAAAAAAAAAAAAAAAAAAAH


BURN IT!!!



well, maybe thats just ONE unglam shot though...
he does have his good days...

3. Do you like Jacob Black?
i know everyone hates him like hell, but deep down inside, he has a good heart...
and you can see his point of view makes sense... :)




4) Do you find Jacob Black hot?

hes OK but id rather have Edward anyday...
8) You love Edward and Jacob. Who would you choose?
EDWARDCULLEN
EDWARDCULLEN
EDWARDCULLEN
EDWARDCULLEN

EDWARDCULLEN

have i made it clear enough for you yet?
9) Your best friend got close to Edward. Will you feel jealous?
I'd be so jealous I'd burn her alive. :)

but before that,
I'd cut off her limbs one by one with a cheese sandwich...
Melt her eyeballs on a stick over a campfire and then eat them with marshmallows...
and drown her in a pool of poisonous fugu fish...

scared yet? (wahahaha *evil laffs*)




10) You got kissed by someone and he's not human.What will you do?
what is he then? chopped liver?

if he was a vampire though...
Don't think i could resist even if i wanted to...
*sigh*
imagining....




11) Carlisle or Edward?
~Edward Cullen forever~
i do love carlisle though....
he's awesome :D

12) Family or vampire?
awhh...
sorry mum and dad...
i go with the vamps >.<
13) Love or Friends?
depends on the love and the friends...

probably love though...
sorry guys...
*smiles sheepishly*





14) If the guy you love leaves you exactly like how Edward had left Bella, what would you do?
If I was as madly in love with Edward as Bella was...
I would probably suicide...
I really don't know how she stopped herself...





15) If Edward gives you 502 roses, will you love him in return?
Don't I ALREADY love him??





16) Five things you hate about Edward.
wow. this is really tough...

erm...

1) his actor in twilight movie...
(cmon... the guy is so ugly my eyes burn...)

2)....

EDWARD IS FLAWLESS LA PEOPLE!!!!

what is not to love?
he's a gentleman
he's nice
he's hot
he's smart
he's athletic
he's a music freak


he wrote a song for bella

< style="font-weight: bold;">HE'S PERFECT




17) Five things you hate about Jacob.
hmm... actually jacob is not that bad...
dunno wads everyone's thing against him...
but anyway...
1) Hes damn buggish
Bella has Edward,
Edward has Bella.
Leave them alone and GET A LIFE!

2) He's a werewolf (or shapeshifter thing??)
given the choice,
which would YOU pick?
a hot sexy vampire?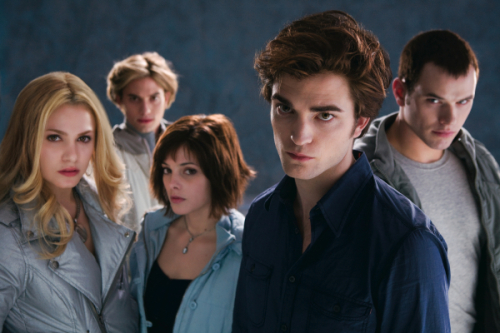 *Chokes chokes*
or the hairy, smelly werewolf?
3) He stinks!
wad? its true! the vampires say so...
4)He imprinted on Renesmee
That made me damn pissed...
i guess i was jealous like Bella?
and the Nessie thing pissed me of too...
5)hmm...

i guess i don't really have that much against him because in the end,

alls well, that ends well...
:D haha a proverb!

18) Four things you love about Edward...
What? only four?
well, i'll list out my fav points...
1) HOT!
wad? he is beautiful...
2)Musical
What's more sexy than a guy who plays the grand piano, right?
and HE WROTE BELLA A SONG!!!
3)Old-fashioned
haha i secretly love really old-fashioned stuff...
like the whole white-wedding thing..
all the chastity stuff...
very gentlemanly like...
sigh...
4)His "Magicalness"
He's a vampire...
which means he's super strong, super fast, indestructible, and a genius(smart is attractive)...
not to mention he reads minds!!!
he's just so intriguing...

19) Three things you love about Jacob...
1)He helped Bella through her rough spot
he's actually the nicest in new moon...

dunno why people hate him so much...
in eclipse, he's damn annoying though...

2)He's really tall
what? i like tall people...

3)He's going to be part of the cullens
since he's almost definitely gonna marry renesmee, he will be part of the cullens soon...
and doesn't everybody love the cullens? :D


20) Two things that you love about Bella...
1) She's clumsy and accident prone!

it makes me feel soooo good about myself...
2) she's with edward

what more do i need to say?


21) If you love Edward,and he promises you something that he didn't fulfill,what will you do?
do what bella does! look sad and pout...
hahahahaha

22. Last question, if both Jacob and Edward says "I love you" to you at the same time,same place,same venue,what will you do?

Say "awhh... i love you both too!" and give them a big bear hug!
:D


23. Oops..one more.. If you got married to Edward, will you force him to transform you as soon as possible so that he could make love with you?
Duh... If my life is all Edward, what else should i wait for?


24. List 6 people here for you to tag.
hmmm..

1)jowynna
2)tanusha
3,4,5,6) Anyone who reads twilight...

i know everyone did this tag long time ago... xD