While playing Monopoly. :D
But not just any Monopoly,
but
MONOPOLY

HERE AND NOW: THE WORLD EDITION!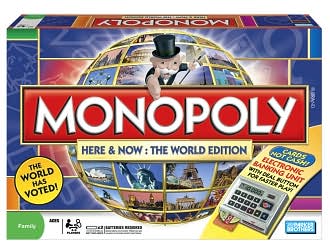 Yea, the one with a credit card!
My cousin had just bought the game and we were all playing together.
You start with 15 million Monopoly money.
(this is vital to my scamming story)
So like 10 minutes into the game:
Christine
then makes a harmless joke.
And to her surprise...
Then all the other players tried to talk her out of it but she was adamant.
So
Christine
did this:
Then she thanked the Lord for a cousin who's not very smart.
So of course I was the richest.
*does a dance*
So people, the moral of the story is:
If you ever play Monopoly, try to get your not very bright 8 year old cousin to play with you. :D